Realtor
Growing up in the LA neighborhood of Pacific Palisades, Judi first started vacationing in Palm Springs at the age 10 when her parents bought a vacation home here at Garden Villas East. She attended art school at the Chouinard Art Institute (now Calif. Inst. for the Arts) and afterwards worked as an artist, assisted a motion picture still photographer in LA and a race car designer/coach in Sonoma, taught Contractor's license law and was head concierge at the Sonoma Mission Inn and Spa. All this and more, before she made her way into real estate in the 1990's, working at 3 Coldwell Banker Sonoma County offices before moving to the Big Island of Hawaii in 2002.
Judi received her real estate license in Kona and managed the oldest real estate office in west Hawaii, Golden Triangle Real Estate, for 6 years before they closed during the economic downturn. In 2010 she bought a home in Palm Springs and then relocated here in 2011. Two days after arriving, she was working as a team member in marketing at a well known real estate office, and received her California Real Estate License at that time.
Since then, Judi has worked with several of the top agents in the Valley, where she put her motto "If you can't fight and you can't flee, flow" into practice daily.
When she's not expounding her views, you can find her socializing with a wide array of local friends and adding foreign destinations to her copious bucket list.
Featured Properties by Judi Perry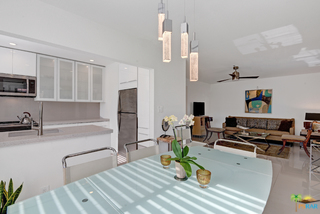 43376 COOK ST 58, PALM DESERT
2 Bedrooms, 2.00 Bathrooms
$231,000
This unit is an architect's vision of his own pied a terre, a sleek update that has all the components you would want in a move-in ready home. The crisp look of white tile runs throughout. The sunny Master Suite has a walk-in closet and the bath has a new IKEA vanity and sink. Guest room is roomy, and 2nd bath is updated. The kitchen has quartz counter tops, and high-end Whirpool Appliances are new and stainless, including an electric convection oven. Slick white upper cabinets are full height, and both uppers and lowers have lights & are self-closing. Energy efficient LED down-lighting throughout is on dimmers, to help create your own comfy environment. A NEST thermostat lets you program the temperature from your phone, & the unit is equipped w/fire sprinklers. French doors lead from the dining area to a gorgeous private, brick paved yard, fully fenced - a wonderful entertainment venue. Just minutes from El Paseo, College of the Desert, scores of restaurants, and shopping. View More Details